ECCP - News, 18th May, 2019
ECCP Weekly Digest

What a great week for the European cluster community participating at the European Cluster Conference 2019 for 2 days of conference plus one day for side events plus a pre-conference matchmaking event with 149 participants from 25 European countries: new themes addressed in the cluster context (digitalisation and skills gap, circular economy and shared value and social impact), great discussions on linkages between cluster-related EU initiatives with different Directorates-General of the European Commission on the role and potential involvement of clusters in different programmes and lots of knowledge shared and connections made between ecosystems. The conference built bridges, inspired people and set up a path for change to be made. We congratulate the organisers of a memorable event that will stay long in the memory of participants and invite you to watch the official conference video as well as to look at the photos and documents related to the conference (including the conference blog) at https://www.eucluster2019.eu/en/pages/documents. Stay tuned for more news early next week!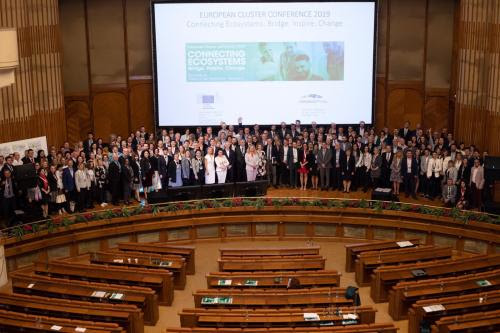 And the winners of the Cluster Awards 2019 are…:
We warmly congratulate them – as well as the nominees for the European Cluster Manager of the Year 2019 Award: Maria Hollander from the Paper Province cluster in Sweden and Lubos Komarek from the Nanoprogress cluster in the Czech Republic.
The conference ended with a bang! During the side event on 16 May 2019 dedicated to the role of cluster associations we could witness the foundation of the European Network of Cluster Associations! We congratulate and will be back soon with more information.
And the latest news we received: the ECCP now integrates the new statistical data and analysis produced by the European Observatory for Clusters and Industrial Change (EOCIC)! Have a look!
Enjoy reading our Weekly Digest!
Your ECCP team